JR Renyk
Owner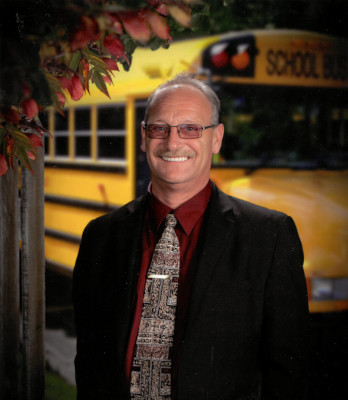 JR's vast experience in the transportation industry/business began in Whitehorse where he owned a fleet of taxis and worked part time as an auxiliary RCMP member. As a single parent to two special needs children, JR discovered a passion for helping and working with kids. It was after a move to Calgary, while working for Cardinal Coach Lines, that he realized that he could combine his love for driving and desire to help children by driving a school bus. JR has been asked for his insight and expertise by several transportation companies due to his diverse experience, including driving coaches, limos, party busses, airport shuttles, and even water and sewer pump trucks. Despite all of this, JR keeps coming back to driving school busses because of the many ways he can positively influence and help children. He is proud of his involvement with the Prince of Peace Lutheran School's busing program over the past 13 years where he has built positive relationships with many students from Kindergarten through Grade 9. It is not uncommon to hear students erupt with a positive "JR!" as he walks down the school hallways.
Tammy Morton-Renyk
Manager / Safety Officer
Tammy grew up in the service and hospitality industry. She has always had a passion for driving. At the age of 22, she became the youngest person to train as a school bus driver for Southland Transportation in Calgary. It was there that she discovered the special skill and determination that it takes to work with and support children each day. While her oldest son was young, Tammy worked as a Dispatcher at the Calgary Airport. As her son began school at Prince of Peace Lutheran School she also began as a School Bus Driver. Over the past 13 years Tammy has built up the transportation program that is now responsible for transporting two thirds of Prince of Peace students to and from school. Throughout her years at the school she has taken College courses in child development and has become a Certified Education Assistant. These courses have been instrumental in helping Tammy train and support the program's bus drivers as they work with all the students on the bus, including those with special needs.